AIR FORCE THE MOVIE: SELAGI BERNYAWA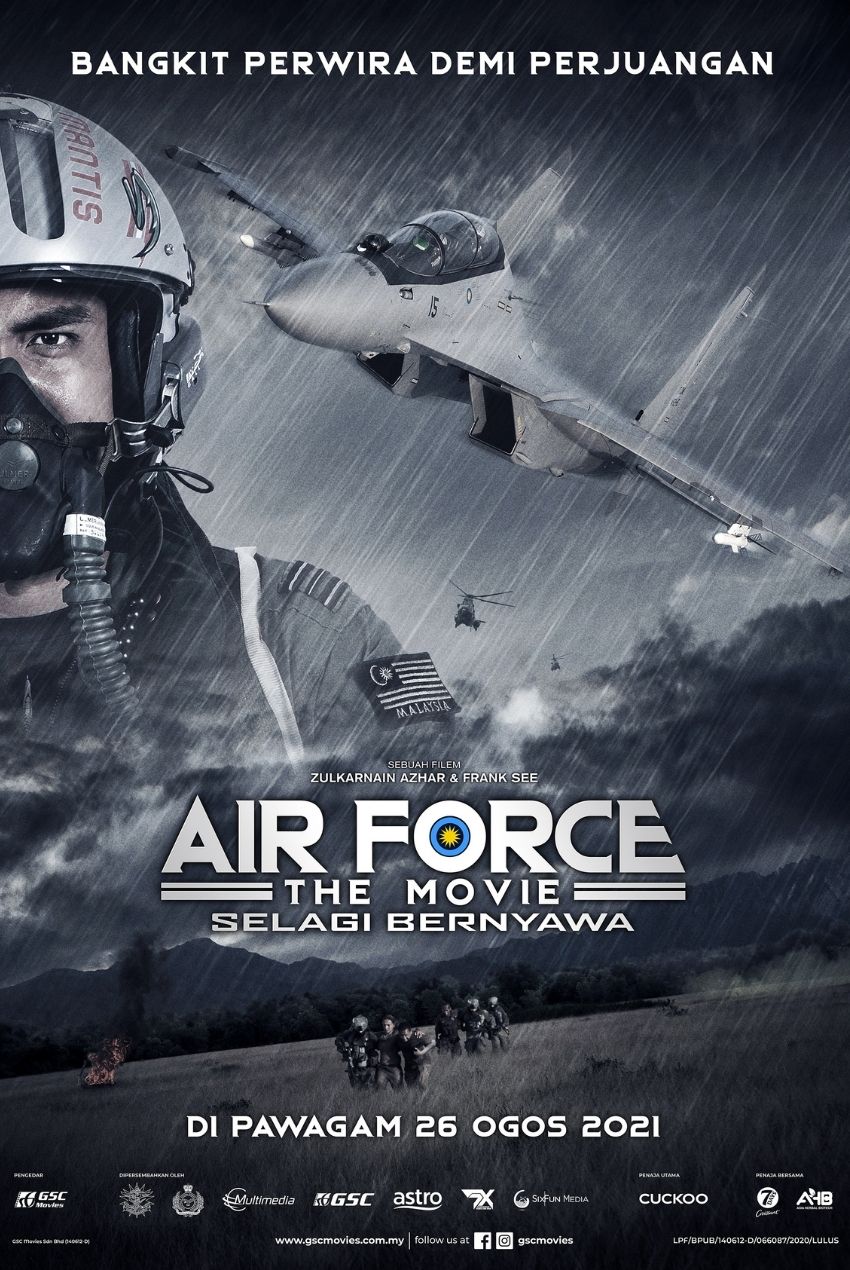 AIR FORCE THE MOVIE: SELAGI BERNYAWA
RELEASE DATE

Coming Soon

LANGUAGE

Malay

GENRE

Action, Military, Patriotic

CLASSIFICATION

-

RUNNING TIME

-

DIRECTOR

Zulkarnain Azhar, Frank See

CAST

Aiman Hakim Redza, Dato' Adi Putra, Nas-T, Luqman Hafidz, Johan As'ari, Pablo Amirul, Jack Tan, Sara Ali, Anas Ridzuan, Iman Corinne, Niezam Zaidi
SYNOPSIS
The movie follows the story of a PASKAU team led by Captain Adib and his mentor, Major Adnan, tasked with protecting humanitarians serving in war torn country, Namburi. On their return home, their plane gets unexpectedly shot down by local militants: 9 of the passengers managed to make their jump before the plane crashes. Back in Malaysia, upon discovery of the news, the air force makes preparation for rescue. Adib's brother in-law, Zafran, a grounded SUKHOI pilot, fights for the opportunity to save them. The air force deploys help and the survivors make their final run to salvation.
AIR FORCE THE MOVIE: SELAGI BERNYAWA
DI PAWAGAM

Akan Datang

BAHASA

Bahasa Melayu

GENRE

Aksi, Ketenteraan, Patriotik

KLASIFIKASI

-

DURASI

-

DIREKTOR

Zulkarnain Azhar, Frank See

PELAKON

Aiman Hakim Redza, Dato' Adi Putra, Nas-T, Luqman Hafidz, Johan As'ari
SINOPSIS
Filem ini mengisahkan Kapten Adib dan Major Adnan bersama skuadnya yang terlibat di dalam misi bantuan kemanusiaan di Namburi, sebuah negara yang sedang dalam pergolakan. Di dalam perjalanan pulang ke Malaysia, pesawat mereka telah ditembak jatuh oleh pengganas. Mengetahui perkembangan ini, Tentera Udara Diraja Malaysia telah mengarahkan misi untuk menyelamatkan mereka semua. Zafran, abang ipar kepada Adib dan juga seorang pilot SUKHOI berusaha untuk menyelamatkan mereka. Demi keselamatan bersama, mereka harus berkorban dan berjuang sehingga ke titisan darah yang terakhir.